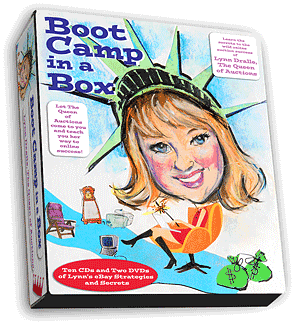 I got a signed copy of "The 100 Best Things I Sold on Ebay" by the
Queen of Auctions

from
www.DeKoopman.net
(Bedankt !).
Art 18. Little Tikes Swing; Paid $3, sold $25.
"The swing ended up selling to a woman in Bellingham (where I live), of all places. She had never been in the shop before and came in to pick it up, saving herself shipping in the process. This happened a lot. Our regular store customers were always checking our online auctions and would come in during the week before the auction would end and want to see something in person.

It was really amazing how having an open store helped drive up the prices on a lot of pieces."
The bricks store benefitted as well:"When new customers would come in they would often say, "I have been driving by for years and never stopped. This place is amazing!"
This is exactly our experience at verKoopwinkel with eBay. The problem is bidders who don't have computers (20% of the population ?) for them we make eBay accounts with their verKoopwinkel customer number at the end. For example: "cashklant2842".
verKoopwinkel Amsterdam: Kijken op Internet, verKopen in de winkel